As I mentioned yesterday my winter wardrobe is currently influenced by the circus this year! Think bright colours, high waisted minis and shorts, and lots and lots of sparkle!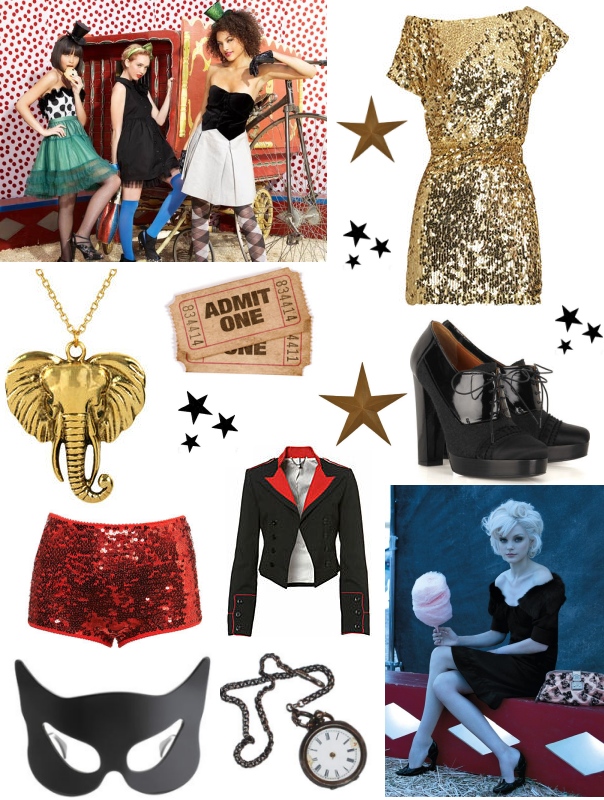 images thanks to
foto_decadent
,
polyvore
and
forever 21
(thanks
Becky
for the tip!)
Key Items: Anything sequined, rich dark jewel colours, lots of liquid eyeliner and glitter, military detailing, a top hat, stripes, high patent heels, sparkling ballet shoes, a bow tie, gold jewellery, a fabulous kimono for lounging around in your dressing room, big bouffont hair, a cape, a brightly coloured umbrella, trapeze lessons, a big bag of popcorn, a pimp cane, big hair accessories, exciting gloves, clashing patterns, a red nose and a big smile!
Geek out...
.Anna Sui's
spring 2010 collection
is very circus inspired.
.
Kirsten Dunst's
Miu Miu advertisments
.
This photoshoot
for Paris Match is very relaxed showgirl glamour, yum!
.And
this Coco Rocha
one is really cute.