I have been uhm-ing and ahh-ing (and also argh-ing!) for a while now about investing in a designer handbag. Over and over I have heard all about the merits of buying designer - style, longevity, ethics, price-per-wear, craftsmanship etc etc but to be honest even taking all this into account the ridiculous price tags that come with many designer bags really put me off. Could I really justify spending so much money on one item?
So as a bit of an experiment I went on an internet hunt (and a v important reconnaissance trip to Selfridges!) for stylish investment handbags for under £500. Although this is still an awful lot of money, it felt much more achievable that the £1000s designer handbags regularly seem to be advertised for. I found that designer's diffusion labels (D&G, Marc by Marc Jacobs, Emporio Armani etc) were my best bet as most designer handbags, with the exception of the odd £100 or so canvas shopper (one hundred pounds for a piece of canvas with a strap?!) were well out of my reach.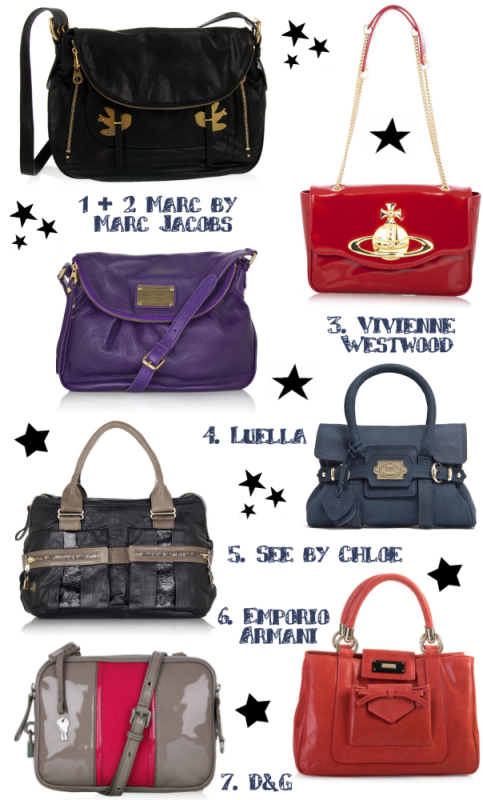 All bags can be found on
netaporter
,
farfetch
,
mywardrobe
and
luella
.
Marc by Marc Jacobs is definitely my number one choice. I found a good range of styles, sizes and colours both in the shops and online. Luella, Anya Hindmarch and Vivienne Westwood were some of the few designers which had decent sized day bags from their main line for under the magic £500 sum. See by Chloe was another cheaper diffusion label with a lot of choice for under £500, however if you wish to carry around more than a lipstick you're probably better off looking elsewhere!
Have you, or would you think about investing in a designer bag? Or is it just way too much money to even contemplate?!