In just a few weeks I am going to (finally!) be starting my first grown up job (eek!) and naturally upon getting confirmation I would be starting in December the first thing I did was run to my wardrobe and come to the conclusion that I Have Nothing To Wear.
No, really!
I've worked for this company before, but only as an intern, and only during the summer. Although I would say that my usual style was quite dressy, it's been the wardrobe of a student and unemployed person for my entire life so far. Finding nice, warm clothes that are suitable for an office,
and
which I will be happy wearing all day everyday five days a week from simply shopping my wardrobe is just not happening. I've put together an idea of what I want my capsule work wardrobe to look like, and then it will be time to hit the shops!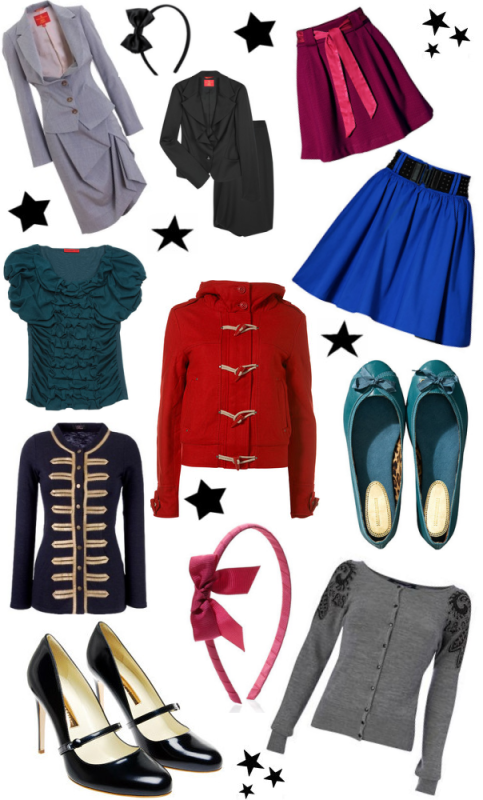 For me the capsule work wardrobe definitely needs to contain a suit (what wouldn't I give for one of the Vivienne Westwood numbers above?!), plus a couple of more colourful interesting separates to mix and match it with on less dressed up days. I get cold easily and most of the jumpers and cardigans I wear are slouchy and cuddly, lovely for home but I think I need a couple of neutral, fitted jumpers and cardigans for work.
A new coat is also on the list as my current leather jacket is warm and snug but not allowed in the office. There are so many cute dufflecoats around at the moment, they look so warm, Paddington Bear eat your heart out! I must
must
not give in to temptation and buy some sensible shoes rather than my usual selection of uncomfortable tottering heels, and to round it off I don't see why I can't have a few fun accessories too!
Do you work in an office, or need to dress smartly for work? What are your staple items? How do you reconcile your personal style with your dresscode?