Spring/Summer 2010 Collection
, all runway photos via
style.com
Marc Jacobs is probably my favourite designer ever, and his Marc by Marc Jacobs line would have my name on every single item if I could afford it! I love his bold use of colours, the youthful style and the way his clothes would sit just as well alongside a high street wardrobe as one filled with designer goodies. Designer clothes are obviously aimed mainly at a more mature, wealthy market than I fit in to. While I get that
is
their target audience, I love diffusion lines exactly because it feels like the Marc by Marc Jacobs girl is probably younger, and the sort of girl who's wardrobe mainly comes from Topshop and H&M, but every once in a while saves up to splurge on a great designer item, i.e. girls like me!
Autumn/Winter 2009 Collection
His collections always include a mixture of stand out pieces alongside very wearable clothes, and accessories and jewellary to die for. I think the shock of Luella announcing their closure recently
has shown everyone that if you really like a designer, and feel that you can afford to do so you'd better get out there and support them or they could be gone before you know it!
Autumn/Winter 2009 and the man himself
Currently my only piece of Marc by Marc Jacobs is my watch which I have worn every day for nearly two years now, as shown by the fact that it's in nearly every outfit picture I post! If I had more cash in my wallet though here are some items that would be mine before you could say Marc who?!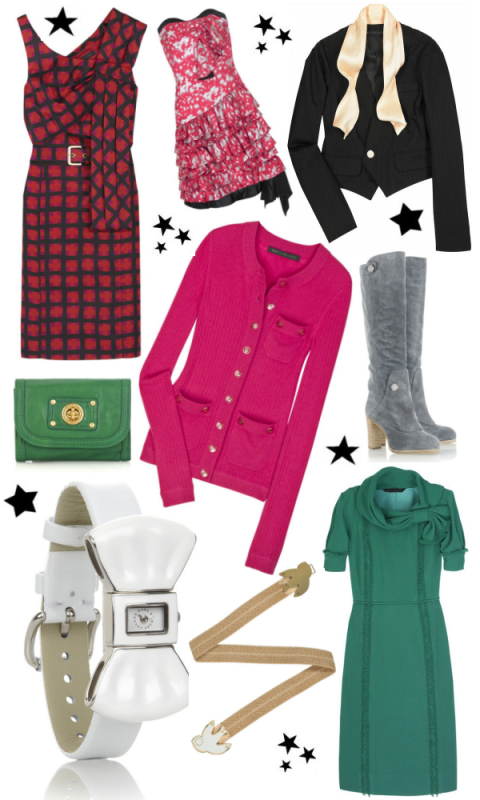 Who is your favourite designer? And do you own any of their designs?