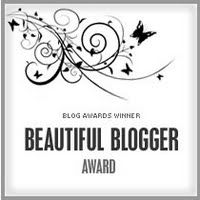 The lovely Shopgirl over at
Sugar and Spice
gave me this beautiful blogger award - how sweet is that? As per the rules of the award I have to tell you seven interesting things about myself. I hope they're interesting anyway!
1. I have a fear of buying clothes online. I hate returning things so I always like to be absolutely sure of something before I buy it, and for me that means I have to try it on in person.
2. Everyday when I go to work I play 'spot the mulberry' on my commute. I usually see 5-10 Mulberry Bayswaters on my journey! It's my version of I Spy...
3. I am hating winter at the moment, mostly because it is always too dark to take photos when I get in from work! Any 'daily outfit' photos are actually a bit of a cheat, as I take them mostly at the weekends!
4. I have a massive obsession with all things Swedish. Although I have never actually been! Swedish houses, clothes, bloggers, books, you name it!
5. Surprisingly enough, I think blogging about clothes and fashion all the time has actually meant I spend
less
money on them - not more! My purchases are way more thought out, and I get my quick fashion fix online without spending anything.
6. I get a real kick out of
bending
my work clothing restrictions just a little... It's a personal challenge to see how much creativity I can get away with while sticking inside of the rules!
7. I passed my first two accounting exams last week so I am 2/15ths on my way to becoming a real grown-up accountant! Consequently I have been indulging in being really lazy ever since!
I'm not sure who to pass this on to as I read so many lovely blogs everyday, so if I've ever commented on your blog, this is for you!