I have recently developed a major love for nudes. Not naked people (though they're nice too!), get your minds out of the gutter, obviously I meant the colour! Previously I never used to like pale colours as I am super pale myself so I found they made me look really washed out and ill. Recently though I have found the solution - as long as I don't wear them next to my skin I'm fine. That's why I'm in love with the black-collared topshop dress below, and lovely thick grey tights paired with the palest of pink skirts. A perfect way to inject a bit of a spring glow into your winter wardrobe.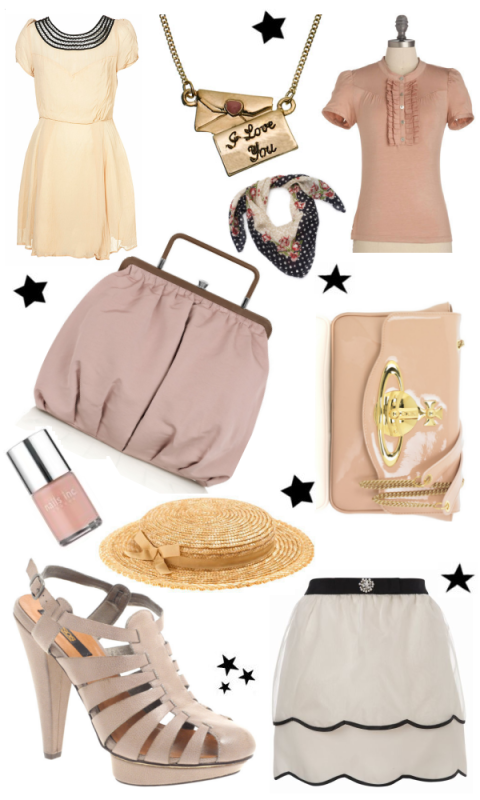 Clockwise from top left: dress - Topshop, necklace and scarf - Accessorize, top - Modcloth, Handbag Vivenne Westwood at Net-a-Porter, Skirt - New Look, Shoes - Asos, hat - Modcloth, Nail Varnish - Nails Inc in Warwick Avenue, bag - Marni at Net-a-Porter
It was really strange when I was looking for nude colours in the spring 2010 runway photos, they all seemed so long ago now! I've got so used to a fashion calendar which is six months before you might ever think of wearing something similar. I was reading a magazine article which was talking about Chanel's outrageous spring runway show and I was like 'what? That was six months ago! How can you only just be talking about it now?' I don't really want to weigh in too heavily on the whole magazines vs bloggers debate going on at the moment, but I think magazines need to wise up, and bring readers a bit more. I don't think they've quite caught up to the fact that these days with style.com and bloggers posting photos and videos traight away we're running on the same schedule to them, not six months later.