This is every skin, hair and beauty product I use daily or almost daily. It looks a bit excessive now I come to see it all laid out - 19 products! My current top five are at the front, left to right:
1. Nivea light daily moisturising cream. For me (how celebrity beauty product do I sound?!) it's the best thing ever. My mother recommended it to me when I was a teenager, and I have friends whose mothers use it and bought it for them, and other friends who have been converted and then told their mothers about it! It has the mother seal of approval!
2. Elle McPhearson hand cream. This has been great through the winter and smells deliciously summery of lemons, yum! It's quite strong which is good because my hands get quite dry in the cold weather.
3. BeDelicious by DKNY. After you all sorted me out with my
lack of perfume knowledge
and enlightened me to the joy of having a signature scent I picked BeDelicious by DKNY and I love being a perfume girl! It smells just like apples, which certainly is delicious, although with my lemon scented hand cream I am starting to smell a bit like a fruit bowl...
4. Mac waterproof makeup remover. Removes everything. Fact. I accidentally bought their non-waterproof makeup remover one time and when I realised my mistake they exchanged it for me no questions asked even though I'd opened it, thanks Mac!
5. Mac Liquidlast eyeliner. Really lastys forever (hence the need for the makeup remover!) I kid you not when I say this product changed the way I felt about makeup forever. The panda eyes I always had at the end of the day are gone!
What's your top beauty or makeup secret?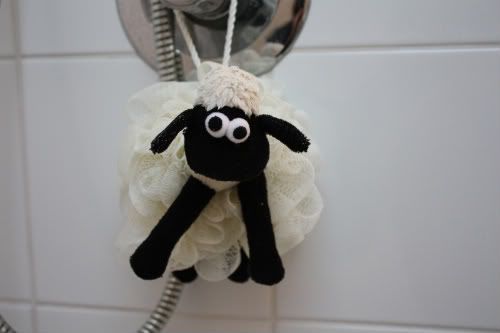 ps this is my showertime pal, shaun!