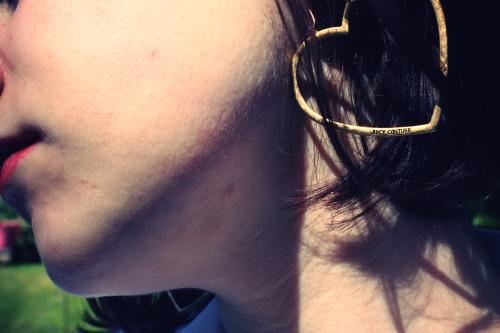 This is a sad story but it has a happy ending.
Several years ago I by chance saw some gorgeous earrings in Primark for two pounds. They were astonishingly beautiful and quite ridiculous, but for two pounds they were fantastic - giant bright pink heart shaped monstrocities which caused complete strangers to stop me in the street and say 'your earrings are huge!' Like I didn't know! Well I wore them everywhere, which is probably not the best thing for cheap earrings and soon the paint was chipped and the catch on one of them broke beyond repair.
I was bereft. They might only have cost me two pounds but I loved them. Well, since then I have been hunting for the perfect replacement and as you might have guessed I have found them. Yes, they cost me significantly more than two pounds, Yes, they are Juicy Couture, and Yes they're a little bit Chavvy, but I love them!
What do you love which is embarassing/uncool?